"A stylish yet practical alternative"
– Designed to meet the requirements
of a modern washroom
Toilet cubicles
Washrooms
Shower rooms
Changing rooms
Anodised aluminium fittings to suit
Designs made to your
specifications
Easily transportable,
flat-pack system
Similar to Versi-Cube, Challenger-Cube offers the same specification with its panels with a pleasant difference in its hard wearing and highly durable ironmongery.
Challenger-Cube offers the ultimate in damage resistance for busy environments.
"Thank you so much for your help in the construction of our toilet areas! Your input was invaluable and we know the finished product would have never turned out so well without your efforts…"
Terrence Baltimore
Builder
Cubicle profiles
All Challenger cubicles are manufactured using either 12mm Solid Compact Grade Laminate (CGL) with all edges chamfered and polished or 19mm Moisture Resistant Melamine Faced Chipboard (MFC) with all edges sealed using high impact 2mm PVC edging as standard.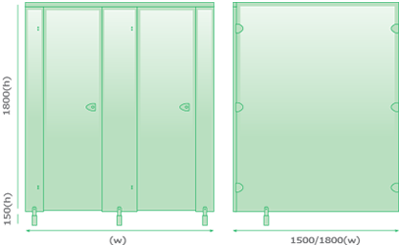 Cubicle hardware and fittings for Challenger-Cube

Vacant/Engaged lock unit

Indicator Bolt (with hidden fixings)

Hat & Coat Hook

Partition Support

Channel Bracket (pack of three)

Rise & Fall Cubicle Hinge

Sprung Toilet Roll Holder