Simply "The finishing touch" – Incorporating
the very latest in design and durability
Eye catching curved aluminium mid and end fascias.
Finishes include polished, stainless steel effect, powder coated and textured paints.
Working in close harmony, our design department and engineers have created a unique system, equally at home in the most prestigious of buildings as in the local leisure pool.
Ideal-Cube cubicles consist of a partition panel and door, combined with an elliptical aluminium fascia. The shape of the fascia gives an extra dimension to the cubicles and combined with a multitude of finishes, allows you to create your own individual design.
Strong, curved aluminium profiles and colour co-ordinated panels, produce a most striking visual effect.
"It was a pleasure to have your workmen here and to take full advantage of their extensive knowledge.
I would recommend your company without reservation"
Nicola Tate, Head Teacher

Cubicle profiles
The Ideal cubicles are manufactured using either 12mm Solid Compact Grade Laminate (CGL) with all edges chamfered and polished or 19mm Moisture Resistant Melamine Faced Chipboard (MFC) with all edges sealed using high impact 2mm PVC edging as standard.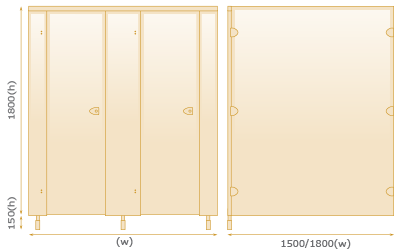 Cubicle hardware and fittings for Challenger-Cube

Robust and shock resistant lock

Vacant/Engaged lock unit

Slam proof and ridged U brackets

Strong stable adjustable legs

Headrail

Hat and Coat Hook