"The tried and tested Cubicle" – Robust and hard wearing, developed to withstand even the most demanding environments!
Toilet cubicles
Washrooms
Shower rooms
Changing rooms
Anodised aluminium fittings to suit
Designs made to your specifications
Easily transportable, flat-pack system
Disabled person's room
Vanity tops and units
Concealed panelling
Available in over 20 colours
Costing and installation are easy but if you are not sure as to what is required, fax a sketch with sizes of the area and our office will contact you by return with a list of items required and price. Our estimate will include all items required to complete the installation.
"We have used Toilet Cubes twice over the past five years for two of our major projects. In both instances they translated our architect's plans perfectly from the page to the actual finished bathroom. We have been delighted with the quality, speed and tidiness of their work"
Mark Poulter
Builder
Cubicle profiles
All Versi cubicles are manufactured using either 12mm Solid Compact Grade Laminate (CGL) with all edges chamfered and polished or 19mm Moisture Resistant Melamine Faced Chipboard (MFC) with all edges sealed using high impact 2mm PVC edging as standard.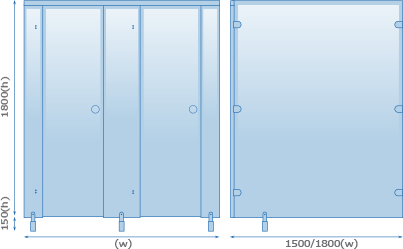 Cubicle hardware and fittings for Versi-Cube

Long lasting Versi-Cube durable hinges

Strong stable adjustable legs

Slam proof and ridged U brackets

Versi-Cube Sprung Toilet Roll Holder

Aluminium hard wearing coat hook

Vacant/Engaged lock unit